Regular price
Sale price
$5.99 USD
Unit price
per
Sale
Sold out
When the ruler is assassinated, the only way the heir can claim power is to give his identity to someone else.
🏳️‍⚧️ Genderfluid main character
🤴🏼 Fast-paced political thriller
👑 Royal life swapping
👥 Shapeshifters
🪄 Space magic
Share
Synopsis

While this book happens 23 years before the main events of this series, it contains characters, events, and context needed to fully enjoy the rest of the series. This is the preferred reading order, but it can also be read any time before, during, or right after books 1 and 2.


THE RULER IS DEAD.
LONG LIVE THE RULER.


Homaj Rhialden has lived his whole life knowing his older sibling, not himself, will rule his interstellar kingdom—and as a court rake, he's perfectly okay with that. But when his parents are assasinated and the Heir goes missing, Homaj is suddenly thrust into power. All evidence points to an inside job, but who among his father's trusted advisors are his enemies?

Determined to track down his parents' killers and prove himself in an increasingly hostile court, Homaj hatches a plan with his servant cousin, Iata, to use their shapeshifting abilities to switch places: while Iata impersonates him and rules the kingdom as a willing target, Homaj searches for the Heir in the capital city.

But in a kingdom ruled by shapeshifters, anyone can be anyone, and not even your own identity is safe. When lies run deep enough to shatter a kingdom and family is hardly friendly, can Homaj protect both his kingdom and his identity from crumbling around him?

A Bid to Rule is a fast-paced royal thriller with a genderfluid lead and glittering court intrigue! This book was first published as The Seritarchus in serial form.

💡Please check content notes.

Published by Robot Dinosaur Press.
Read Chapter One

"The death of a ruler is a cataclysmic event in the life of a Truthspoken. But also, it's only to be expected."

--Anatharie Rhialden, Seritarchus VIII as quoted in The Change Dialogues

Homaj Rhialden, second Truthspoken heir to the interstellar Kingdom of Valoris, sat rigid in a wingback chair in his sitting room. He stared down at the single square of quality card stock in his hands. Creamy paper, the writing cramped and hurried. There was a smudge of dirt near the edge. Or was it possibly blood?

His hands, despite all his efforts, were shaking.

He looked up at the messenger, a young woman who'd introduced herself as Sergeant Vi Zhang of the Palace Guard, she and her pronouns. She wore a maroon and silver uniform, dark bobbed hair framing a heart-shaped face. She couldn't have been much older than he was, maybe mid-twenties at most. She stood stiffly at attention, waiting for him to speak. To react. Anything.

"This—" He cleared his throat. "This is from Commander Tavven's own hand?"

"From the scene, Ser Truthspoken, it was handed off to me at the palace gates. The commander is on their way back to the palace now, and I'm to relay it's their first priority to make sure the palace is secure and you are safe."

Homaj stood, unable to sit still with the storm welling up inside him. "Yes. Fine. I'll go meet them."

He couldn't stay here. Not with the walls too solid, not knowing that just down the hall sat his parents' apartment, which they'd never inhabit again.

"Ser?" the guard said, startled into a less formal address. "Ser, you must stay here. I'm to stay with you, in your quarters. The Seritarchus, your father—"

"Is dead," Homaj said softly. 

His hands steadied by his sides, but his insides roiled, and he couldn't gather his thoughts enough to soothe them.

It was what the note had said. The Seritarchus and the Seritarchus Consort were dead, assassinated in an explosion in the city during a tour of one of the city's hospitals. A hospital.

And his older sibling, the Truthspoken Heir, wasn't in the palace, and wasn't responding to calls.

And him? Was he safe here, in his sitting room, in the royal residence of Palace Rhialden? Was he, a Truthspoken, ever safe?

He needed focus, a purpose, a direction at which to aim.

Zhang shifted. "Ser—Truthspoken—please stay in your quarters. We have two guards at the doors, and myself, and more on the way. I was the fastest runner. They'll be here shortly."

She was adamant, but not losing her cool. Homaj examined the rank pins on her collar. Yes, sergeant.

"Sergeant Zhang. What is your assessment of my immediate situation?"

She tilted her head, calculating. "Two prime targets down, one missing. The Truthspoken Heir was last seen in a meeting with Lord Xavi Birka, with whom they're known to have casual intimacies. We've been unable to contact Lord Birka as well. Or the Heir's bloodservant, who is also missing. The palace is on lockdown. We are searching and strengthening the perimeters around both the palace and the residence wing. You—you are exactly where you need to be. I advise you to go into your bedroom, which has no windows. We will guard all doors, including the doors into the back passages. You, at least, will absolutely be safe."

She sounded like she knew what she was talking about, but Homaj read uncertainty in her voice. His Truthspoken training in reading people and all their subtle cues left little room for lies. 

Not that he thought she was lying to him. Only that she wasn't so sure of events herself.

Because it was logical, if you assassinate the ruler, and possibly the Heir, to take out the only other Truthspoken in existence as well. Which would be him.

"You don't trust the other guards?" he asked.

Could he trust her? If there was even a chance that any of the Palace Guard had a hand in all of this, could he afford to?

She narrowed her eyes, her shoulders shifting uncomfortably in her uniform jacket. "They are the Guard. We are the Guard. We'll protect you."

She also didn't believe that. 

Zhang looked down and away before bracing herself and meeting his eyes. She knew he'd seen through that statement, too.

Was this a game, something she was trying to tell him but couldn't say outright?

No, she just couldn't bring herself to say that it might have been someone in the Guard who'd betrayed his family.

Homaj drew in a long breath. 

He had to Change. He was dressed, now, in his own court finery—an embroidered blue silk blouse, flowing white trousers. His long black hair was braided in an elaborate, asymmetrical pile, set with tiny diamond and nova heart pins. All flow when he needed…command? He didn't know if he was in command, and he couldn't think it. Not yet. His sibling hadn't been contacted, might be alive, might be fine. Had to be fine.

Adeius. Had to be fine. 

His hands were trembling again, and he squeezed his palms tight. What could he do? Who could he be that would most effectively shield him from any attack and allow him to direct the outcome of events? Let him know what the hell was going on?

He started for his bedroom, and Zhang followed.
After purchase, you'll get an email with a download link. Send to your ereader and dive in! 📚
View full details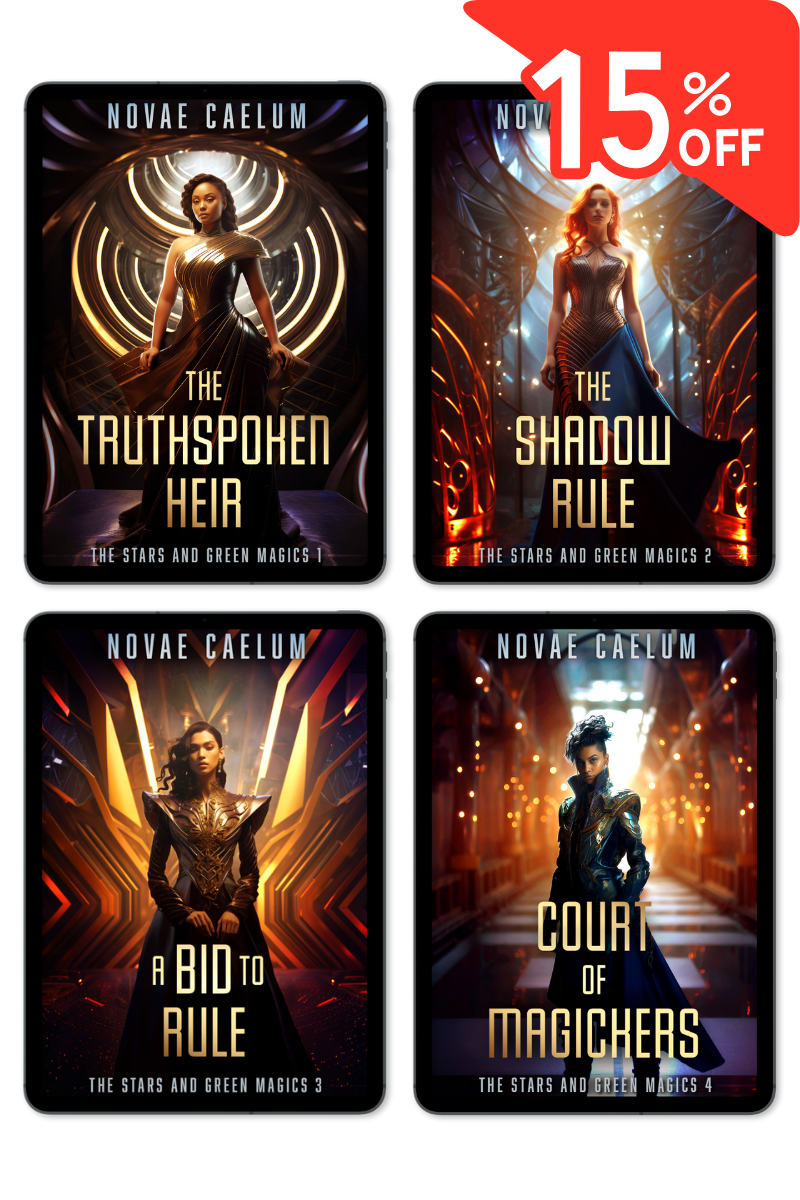 The Stars and Green Magics Ebook Bundle (Books 1-4)
Regular price
$23.96 USD
Sale price
$19.99 USD
Unit price
per
Sale
Sold out
Share
View full details